I feel like I should start this post with a GIANT warning...I am all over the place with this one. I actually am writing this line after reading what I wrote. I had to change the title three times because it just did not flow with the post. Maybe I should cut back on the coffee some?? :)
I started wondering the other day...after doing my blog reading....I was posting comments and ran across some where you have to enter in the phrase you see in the picture. First I am NOT going to complain about those. I am so cool with entering in the characters and if that is how someone wants to set up their comment section I am SO okay with that. BUT...with that being said I had reached the point where there was more caffeine in my blood stream then blood and could not for the life of me enter the phrase in right...which made me wonder...maybe...just maybe... I AM a robot. :)
I am getting crafty...if you know me this is NOT good!! I just finished knitting a baby blanket which I am pretty excited about and am wondering if I should post it in my store? BUT now the problem is I want to do MORE crafty stuff...like Decorating crafty stuff!!I slapped some new pins up on my Pinterest (I am still learning to use that site) and am now brain storming...watch out glue gun!! ALSO...am afraid some of these might fall under painting!! I mean I am taking all that damn wallpaper down right??
Also, is it bad to set blogging goals?? I mean I have one in mind which I am afraid to say because once I say it I can't take it back...but then when I even think it I get a little sick to my tummy. I mean is it setting myself up for failure?? I really am NOT a risk taker and failure scares the crap out of me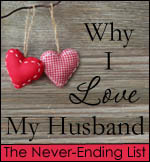 The Never Ending List of WHY I LOVE MY HUSBAND!!
11. You listen to me when I rant and rave about the craziest things and you smile the whole time.
12. You let me be me....which is a BIG thing...because I can be a total pain in the butt. :)
13. You finally realize that there IS a difference between the house being clean verses being organized.
14. You are okay with my total obsession with the mice in the attic...or I'm thinking they are rats...and you know that it consumes so much of my day. That if we are in the middle of a conversation and I hear the smallest of sound from the attic that you freeze what you are saying so I can run and start banging on the ceiling yelling at them to leave...and you still love me.
15. I still do not have any pictures of myself in our family frame of pictures. Yes, I know it's been about 6 years but I still have not found a picture that I look good in...and you don't complain about that at all...maybe you do but I'm still not listening. :)
Thanks so much for stopping by today!!
If you are new I would love for you to look around...if you are feeling super brave I would be tickled pink if you followed along!! Send me an email and say hello!!