First....you should know that this is not a post about me obsessing over a stuffed animal...I'll save that for another time.
I do happen to own AND sleep with a Teddy Bear since I was less then a year old.
I am talking about my HusBear. I am his Laurda Mouse and he is my Teddy Bear...always has been will always be.
I have started reading The Happy Wives Club Blog and came across this really great link up.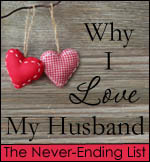 I've had you in my life more years then I have lived without you and each one makes me love you more.
1. Because you are my best friend ..(I know easy one right)
2. Because you love me even when I let the dust bunnies take over our home... because you know I LOVE pets.
3. When things are bad you promise me everything will be okay and I believe you..even when I know there is no way you can promise that.
4. Because we share the same battle scare's and because of it our love has grown deeper.
5. Because when you saw me and my children standing on the side of the road you stopped to pick us up...okay that's an inside joke. :)
6. You love me in spite of the fact that I can belch like a trucker.
7. You are a big kid at heart
8. You make me feel like I am still 15...even when we both know I'm soooo not. :)
9. When we are having a "discussion" no matter how frumpy we get with each other one of us ends up laughing.
10. You are my Lobster.
Love list are great...it can be for your honey...your child...or someone who is so very special to your heart. It's a great way to keep the bad things in perspective and helps you think of the happy when sometimes there is a lot of sad.