Last Wednesday before school starts back up....wow where did the summer go!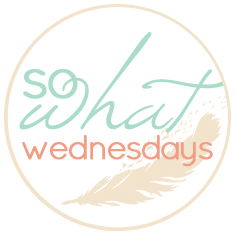 I am linking up with Shannon over at Life After I Dew for another So What Wednesday!
So What...
* I was trying to teach Hannah how to cook...I have been teaching the kids since they were little...and while removing something from the gas range I apparently had the pot holders a little to close to the flame and they caught on fire. Okay...why aren't those things flame retardant?? So the lesson for that day was turn off the flame first...oh and not yell "Holy Crap" while a fire is burning on your hands.
* That on the last few days of sleeping in I made the kids a 7:00 am dentist appointment. That meant they had to get up about 6:00 am to eat and get ready. Yea...that will teach them to mess with mom!
* That for the first time in years I bought myself some new socks. Now please don't think I go around with some gross old crispy socks. That's not the case...I have actually been just wearing my sons socks. Well now their feet are bigger then mine....so I had to grow up and buy my own socks.
* My children don't know how to pick the correct words when saying things. That sometimes they pick a word that turns their sentence into something bad...very bad...and they have no clue what they just said. Sadly this tends to happen when we are in public....or church.
* That I told my 8 year old son it's okay to make other kids cry on the football field. I didn't mean by playing dirty...just by playing hard. Does that make me a bad mom??
Don't forget to enter to win your very own pair of Oakley Active Sunglasses valued at $130!
Congratulations for Donna M. for winning the It Works Wrap!! If you didn't that wrap one don't fret...there will be another wrap given away in the next couple weeks....make sure to follow along and stay

tuned

.